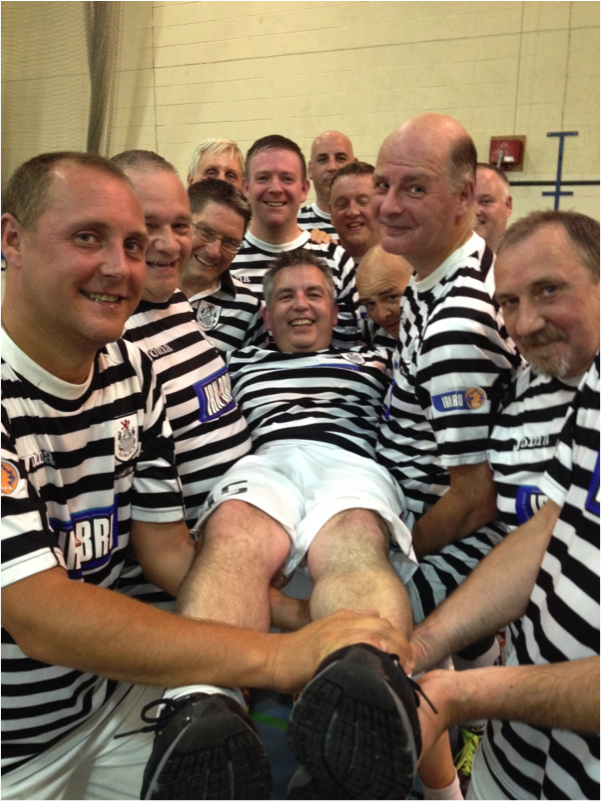 Spotlight On: Queen's Park In The Community
Written By Admin
Media intern Daryn MacRae recently popped in next door at Lesser Hampden where he met George Watson, Community Development Manager at Queen's Park FC, to find out more about the work they are doing in the local community.
George championed the "excellent and very comprehensive" H2-O Programme, run by the SPFL Trust and Scottish Water, and let us in on the secret behind the Still Game project's continued success…afternoon tea and scones!
Read on for more.
---
How would you describe your role here?
"It's fairly comprehensive. My role involves co-ordinating all the community activities that go on a weekly basis.
"We're very much mindful that our club is 150 years old this year. We have an older demographic who attend so we really have to make sure we engage with people from all different age groups and all walks of life."
What would you say is the overall goal of your work?
"The overall goal is to introduce the community to the club and improve their health and mental wellbeing – all the while using football as a magnet.
"People come for many different reasons – some come because they enjoy being a part of the club alongside supporting the team on a Saturday, they may come because they enjoy playing football and keeping fit or they may come because they enjoy the social side of things.
The club is celebrating 150 years this year and you touched on the importance of engaging with the older demographic. With that in mind, what can you tell us about your involvement with the SPFL Trust's Still Game project?
"The Still Game programme is hugely popular. It sees adults over the age of 55 come in once a week and we put on different activities we think are suitable for them. It's not always football related – but it very much champions community engagement.
"We may go to a museum, visit a park, go for a hill walk or on another day we'll stay here and watch a movie. Whatever the activity, it always ends with a cup of tea and scones!"
Learn more about the SPFL Trust's Still Game project here.
---
---
Another programme where you have had plenty of success is the Tackling Recovery programme. What can you tell us about it?
"The Tackling Recovery programme is for adults facing challenges in their lives, they may be suffering depression or experiencing other mental health concerns.
"We don't try to be too clever; we just offer the things that football can do. There's the involvement in the game they love through training with our coaches. As well as that there's the social interaction, people who maybe don't see many people over the course of a week come here just to meet up with people.
"It provides respite and takes away a bit of pressure. The aim is to rebuild their confidence and self-esteem.
"We've had people living in isolation, not leaving the house struggling to get out of beds who are now at the stage where they are getting out, using public transport to get to and from Queens Park, enjoying the football and getting fitter and sharing social side things with other participants.
The League Cup Report shows you have managed to engage with almost 300 people. Football Fans In Training has been a big part of this, what has been the programme's impact?
"It's really struck a chord with the participants. It's easy to lose weight but there can be a yo-yo effect where the weight can go just as easy go back on. The Football Fans In Training program has done a great job of helping people not just lose the weight but keep it off.
"It's about creating good habits and convincing them they have the mental strength to see it through. As well as doing the 12-week initial program we have a follow on weekly session now where we keep asking them to keep an eye on their weight, be mindful of their diet and maintain their step count."
Read the Legacy Fund League Cup Report here.
---
---
You've also been heavily involved in delivering the H2-O programme to local schools. How has that been received?
"Yes, it's another excellent and very comprehensive programme. It gave us a great opportunity to go into schools and deliver football sessions, all the while educating the kids on something that is really important – water.
"An average session would be split roughly between 45 minutes in the classroom giving an overview on how the water cycle works, a question and answer session and then a football session themed around the importance of water and hydration.
"We actually had the manager and a couple of players visit one of the schools, which went down really well.
"All the feedback from the schools has been so positive."
Find out more about the SPFL Trust and Scottish Water's innovative primary schools project here.
How do you see your relationship with the SPFL Trust developing through 2017 and beyond?
"The SPFL Trust has been fantastic for the clubs and we really appreciate the support. I hope that it continues big time as we're really enjoying delivering the programmes and working together, so nothing but praise for the SPFL Trust and what it brings to the party."
Keep up to date with Queens Park In the Community here. 

Stay on the ball with the SPFL Trust on Facebook and Twitter.