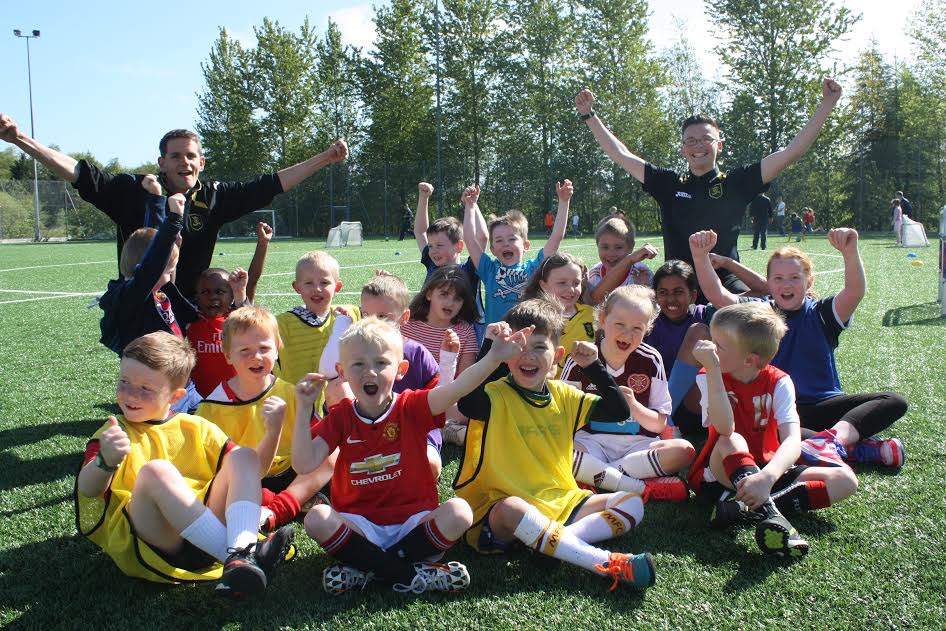 Spotlight On: Livingston's West Lothian Youth Foundation
Written By Admin
by Calum Woodger and Daryn MacRae
Continuing their journey around the SPFL grounds, media interns Calum Woodger and Daryn MacRae recently visited Scott Millar, Development Manager at Livingston's West Lothian Youth Foundation to find out more about the work their doing in the local community.
Scott told the pair that FFIT particpants had "lost the collective weight of a baby elephant" and that the Reminiscence programme was "really inspiring."
Read on for more.
---
---
How would you describe your role here at Livingston?
"No two days are the same. My main job here is to oversee the day-to-day running of the foundation. It's about finding investment, creating new courses and networking with different organisations in the county.
"Our foundation is slightly different as we are part of an umbrella group alongside the football club, West Lothian College, the SFA, the council and Xcite.
"With all our programmes we try to make sure the cost per participant is very small and open to all, as some areas of West Lothian are experiencing severe economic issues which can have a huge effect on participation."
Can you tell us more about the Reminiscence programme?
"The Reminiscence programme has a lot of kudos around it. It came about after a chat with Sporting Memories and Michael White at the Hampden Museum. The stadium's nostalgia brings memories flooding back for those with Alzheimer's and Dementia.
"Our main goal is to engage with the youth so we decided to double up with local high school students. This sees sixth years come in and buddy up – leading the activity and becoming the people participants engage with on a regular basis.
"We flipped it on its head and the results we have had have been staggering, not just for those individuals with Alzheimers or Dementia, but for the students as well. The inter-generational aspect has seen them engage with people they previously wouldn't have engaged with.
"Last week for instance at the Festive Friends dinner, two promising youth team players came along and met Freddie Glidden. They didn't know who he was but once they were told his history, that he was Hearts captain when they won the Scottish Cup, they were amazed and gained a lot from him. That's the whole point of the program. It gets young people to come and find out about people with amazing stories.
"It's really inspiring. We've had individuals such as one chap who came from a care home where he just sat, didn't speak or take part in any activities. In the first week with us that's what he did, but by the second session, you could see him start to open up and want to talk. Then by the third session, he started to engage and you could see his eyes changing, as daft as it sounds, as we looked through old Celtic pictures. The carers were left amazed as that small click seen him go back a different person."
How has the FFIT (Football Fans in Training) programme been received?
"We started last year and have had fantastic results. The weight loss has been huge. In the first group that done it, the 18 that finished lost the collective weight of a baby elephant.
"It's the small changes that make a huge impact, whether that is getting back into playing football, or cycling, or changes in diet. We really like the program. There are individuals that have a really strong relationship with the club, who have a real love for Livingston, and they have come in and found the changes the course has made to their life have been phenomenal."
Find out more about Football Fans in Training here.
---
---
How have you been getting into the festive spirit over the Christmas period?
"We've always looked for ways to provide opportunities for people that are lonely. The Festive Friends event last week was excellent. We engaged with some of our Reminiscence participants and went out and spoke to other care homes.
"We had 14 people at the dinner and found it hugely rewarding. One guy had not left the care home for five months, but came to Festive Friends for his first day out. The carer said 'don't bother putting much on his plate, he won't eat it' but he ate everything! Whether that was down to the environment or the chance to speak with other like-minded people I don't know but it proved a really helpful day for him."
What can you tell us about the Erasmus+ Program?
"We are really looking forward to taking part in that pilot project. It's based on an Engagement League over two youth age groups that the students get out and make a real difference in the community.
"Football provides the spark. It ties in their responsibility to be good citizens in the area and what they can offer back. We are hoping to take children from deprived areas and give them the chance get out, meet new people and make friends."
How do you see your relationship with the SPFL Trust developing in 2017?
"The bond the SPFL Trust is building with the clubs is great. Even just the media coverage from the League Cup report has been phenomenal. That week showed football in a good light, for a change, and put the good work the clubs really do in the spotlight.
"We have an engagement group that is making sure whatever the SPFL Trust hopes to achieve is in line with what the clubs want. Successful initiatives such as Festive Friends show the two parties are singing off the same hymn sheet, and I can only see it getting better in 2017."
Follow the latest happenings at West Lothian Youth Foundation on Facebook and Twitter.

Stay on the ball with the SPFL Trust on Facebook and Twitter.