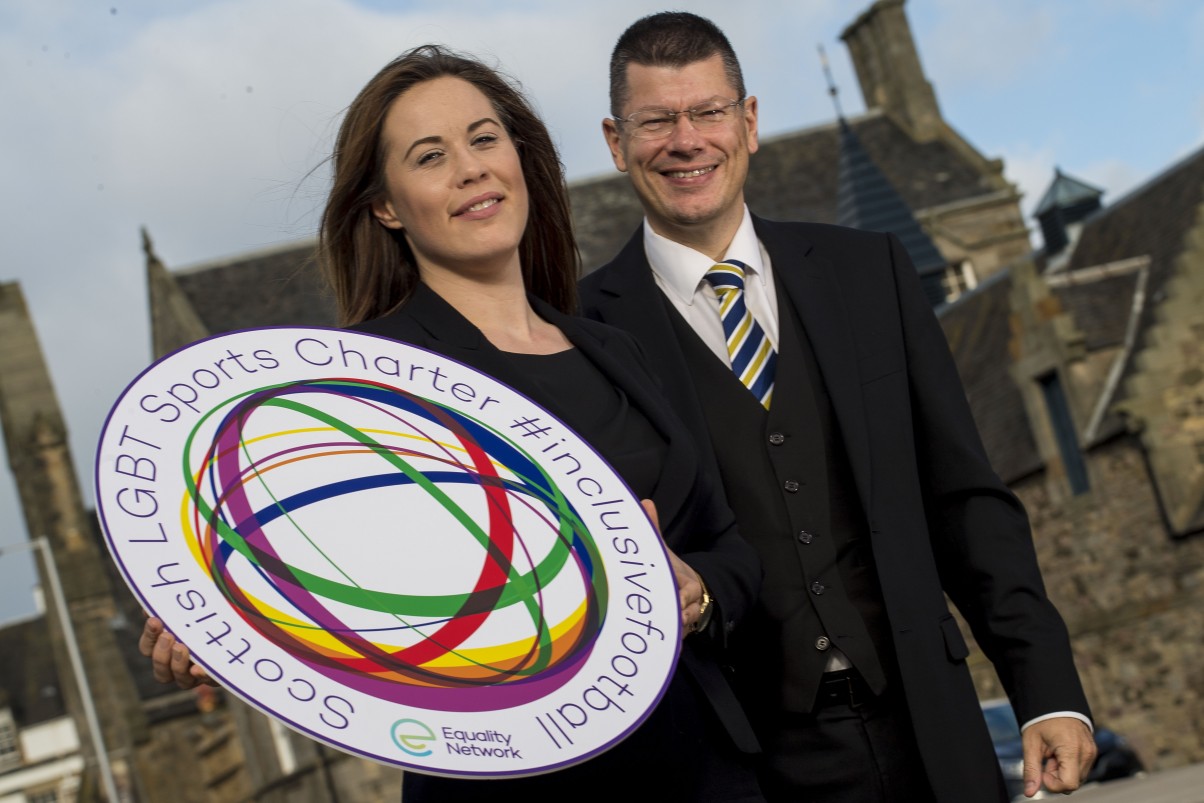 SPFL Trust sign up to Equality Network's Scottish LGBT sports charter
Written By SPFL Trust Media Centre
The SPFL Trust & the SPFL today (Thursday 26 October) reveal that both organisations have signed up to the Equality Network's Scottish LGBT Sports Charter, a move welcomed by the Scottish Government.
Launched this summer, the charter has been developed in consultation with sports governing bodies, other stakeholders and LGBT people.
It seeks to promote participation and success for people in Scotland, regardless of their sexual orientation or gender identity.
The charter has five principles for those delivering sport in Scotland to sign up to.
Take steps to actively involve LGBT people in sport and visibly support LGBT inclusion and equality.
Challenge homophobic and transphobic behaviour and ensure a positive and welcoming sporting environment for LGBT participants.
Develop policies and practices that are inclusive, informed by a better understanding of the issues and barriers for LGBT people and by taking advantage of training.
Work to further include trans people in sport by understanding the differing needs for trans participants and begin to reduce the barriers which prevent trans people from taking part in sport in their acquired gender.
Strive to make continuous improvements to greater include LGBT people in Scottish sport.
For those interested in signing the charter we have produced a Scottish LGBT Sports Charter Guidance document which includes information on the charter and suggestions on steps stakeholders can take to make sport more LGBT inclusive.
So far, 20 SPFL clubs have signed up or agreed to sign up to the charter, and that number continues to rise as signatories' commitments are processed by the Equality Network.
Minister for Public Health and Sport Aileen Campbell said: "The Scottish Government is determined that everyone – regardless of sexual orientation or gender identity – should be able to enjoy and succeed in sport.
"The SPFL and SPFL Trust signing up to the Equality Network Scottish LGBT Sports Charter is welcome news, will encourage more individual clubs to follow the others who have already signed up and complements the work carried out by the Scottish FA in this area.
"Football is our national game and I am pleased the football authorities are taking a lead and signing up to the Charter, which is about working together to take visible steps to remove barriers."
Scott Cuthbertson from the Equality Network comments: "Football has a pivotal role in Scottish public life, when footballing organisations speak out, football fans listen. We're delighted that the SPFL Trust & SPFL have today signed up to the Scottish LGBT Sports Charter sending a clear message to LGBT fans, supporters and players that everyone is welcome at football, regardless of sexual orientation or gender identity."
Nicky Reid, the SPFL Trust's chief executive adds: "The SPFL Trust is proudly supporting to the Equality Network's Scottish LGBT Sport Charter. We recognise that there have traditionally been significant barriers to LGBT people in sport, whether that's supporting or participating.
"As an organisation with physical and mental health a central focus of our activity, we reiterate our commitment to tackling homophobic, and transphobic attitudes to ensure that where people in our communities across the country need support, we can be trusted to provide it, regardless of their sexual orientation or gender identity."
SPFL Chief Executive Neil Doncaster said:  "We are pleased to offer our support to the Equality Network's Scottish LGBT Sports Charter by becoming a signatory, and are glad to see that 20 of our member clubs have already also signed up or are in the process of doing so.
"We have previously demonstrated our commitment to inclusivity and diversity in sport by backing Stonewall's Rainbow Laces campaign and now look forward to also working with the Equality Network on these matters. We would also encourage all of our member clubs who wish to sign up to take that opportunity."