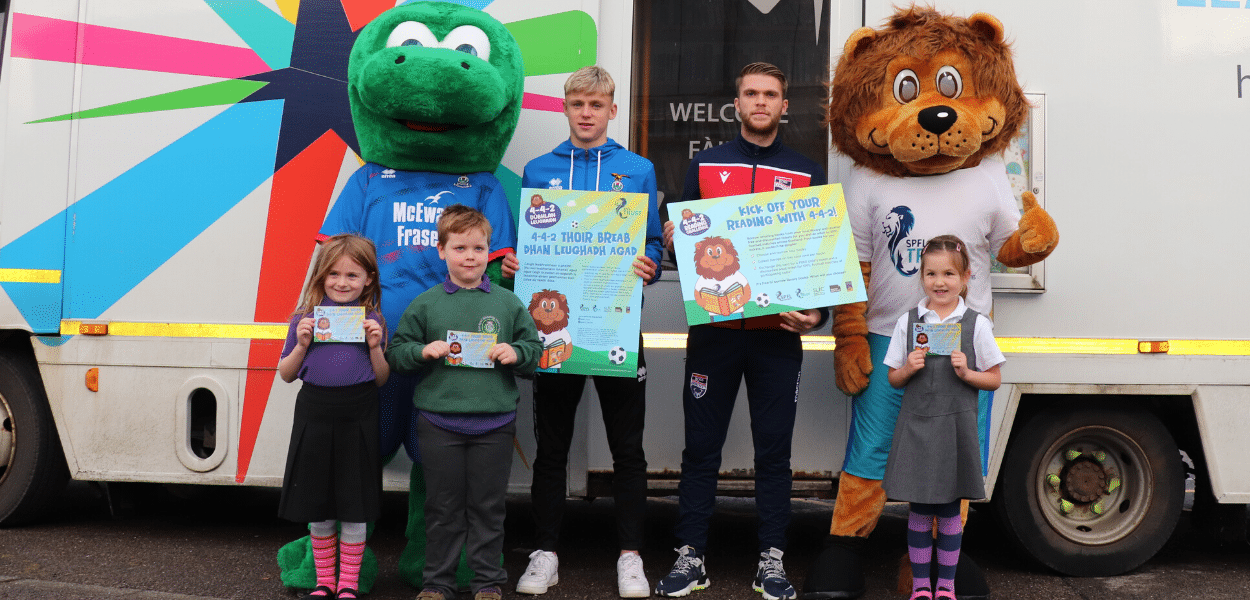 SPFL Trust launches 4-4-2 Dùbhlan Leughaidh
Written By SPFL Trust Media Centre
The SPFL Trust was at Bun-sgoil Ghaidhlig Inbhir Nis (Inverness Gaelic School) today to launch the Gaelic version of the 4-4-2 Reading Challenge.
This is the second year that the pioneering project to encourage kids to read, with the reward of match tickets, has taken place.
For the first time, as a result of funding from Bòrd na Gàidhlig promotional materials in Gaelic have been made available.
Inverness star Roddy MacGregor and Ross County's Marcus Fraser attended the school for a special session where they read to pupils.
Working in partnership with 14 SPFL clubs and local libraries, the 4-4-2 Reading Challenge aims to inspire children aged 5-12 to read four books in exchange for match tickets.
The initiative centres on a reading "challenge card" which participating clubs and libraries will issue. For every book read, children will receive a stamp on their card.
When they have read four books, participants will receive a FREE match ticket, while an accompanying adult will be able to purchase a discounted ticket.
In the first year of the project over 200 libraries were involved, across 11 of Scotland's thirty-two local authorities. There were also more than 20,000 pupils taking part, across 87 schools, with 4,784 books being issued and 330 match tickets being allocated for books read.
Funding for the 4-4-2 Reading Challenge has been generously provided by the SPFL. In turn, the SPFL Trust, Scottish Book Trust and Scottish Library & Information Council embark on the second year of this initiative that aims to help children across the country.
David Boag, Bòrd na Gàidhlig, Director of Language Planning and Community Developments expressed his delight that the project will now encourage pupils who speak or are learning Gaelic will be able to access the programme.
"Bòrd na Gàidhlig is delighted to be supporting the 4-4-2 Reading Challenge to ensure that pupils with Gaelic can participate in this exciting initiative," he said.
"The project supports the aim that Gaelic is used more often, by more people and in a wider range of situations and Bòrd na Gàidhlig looks forward to hearing about the positive outcomes that we are sure will be achieved by the young people taking part and in collaboration with football clubs across Scotland."
SPFL Trust chief executive Nicky Reid added: "We are grateful for the generous support that Bòrd na Gàidhlig have given us in enabling the 4-4-2 Dùbhlan Leughaidh to be extended to gàidhlig communities. We see the powerful that football can have, and in this particular programme the effect it has had on boys. As such we are delighted to be able to widen participation in this way."
Families can visit libraries across Inverness and the wider Highlands to start reading books and collecting stamps, now!