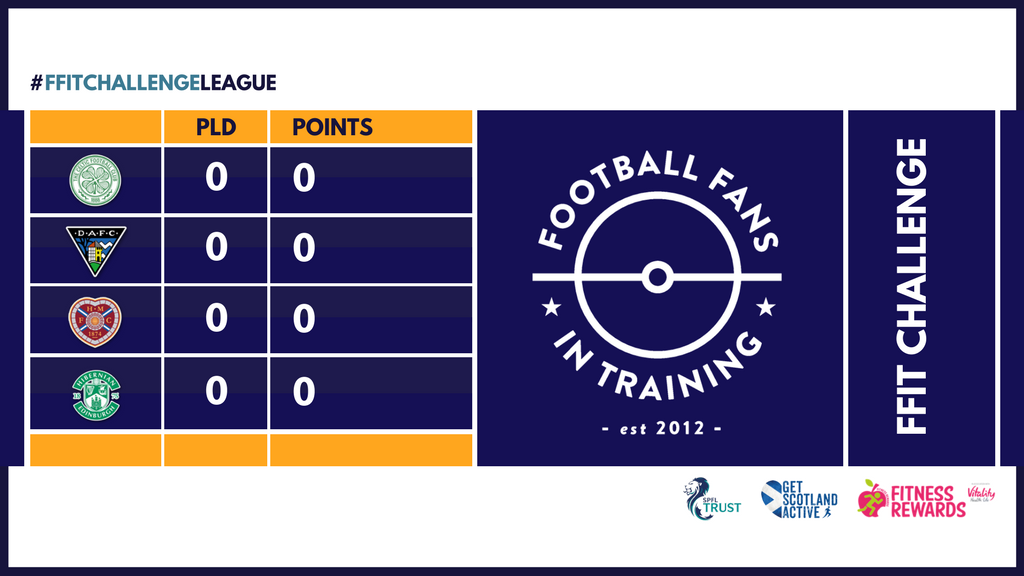 SPFL Trust to launch FFIT Challenge League
Written By SPFL Trust Media Centre
The SPFL Trust's award-winning programme, Football Fans in Training (FFIT) is to launch a pilot programme, the "FFIT Challenge League", next week (commencing 19 February). 
This initiative has been designed to complement the existing FFIT programme by creating a team dynamic to ultimately increase physical activity and motivation amongst individual FFIT participants.
Running over a three-week period, four FFIT clubs – Celtic, Dunfermline Athletic, Heart of Midlothian, and Hibernian – will take each other on in virtual head to head fixtures, which will be decided based on the number of steps accumulated across all participants.
The team that wins each fixture will be awarded three points, with one point in the (unlikely) event of a draw.
Week 1 Fixtures
Hearts v Celtic
Hibs v Dunfermline
Week 2 Fixtures
Hearts v Dunfermline
Hibs v Celtic
Week 3
Hearts v Hibs
Celtic v Dunfermline
Each participant will wear a Garmin device which will track their movement, to ensure impartial data is used to determine each result.
SPFL Trust chief executive Nicky Reid explained that this latest pilot aims to start to understand whether competition is a factor in motivating men to lose weight and become healthier.
"We are pleased to be working with Get Scotland Active on this pilot project with three clubs. FFIT has been such a huge success with men and women, that it's incumbent upon us to continue to look at how we make it even more effective.
"We're currently assessing FFIT Families as a concept, and we know our FFIT Annual Tournament has been really well received, so the FFIT Challenge League is a natural area for us to look at."
The results for each week will be displayed across SPFL Trust social media channels, and on  www.getscotlandactive.co.uk/ffit.