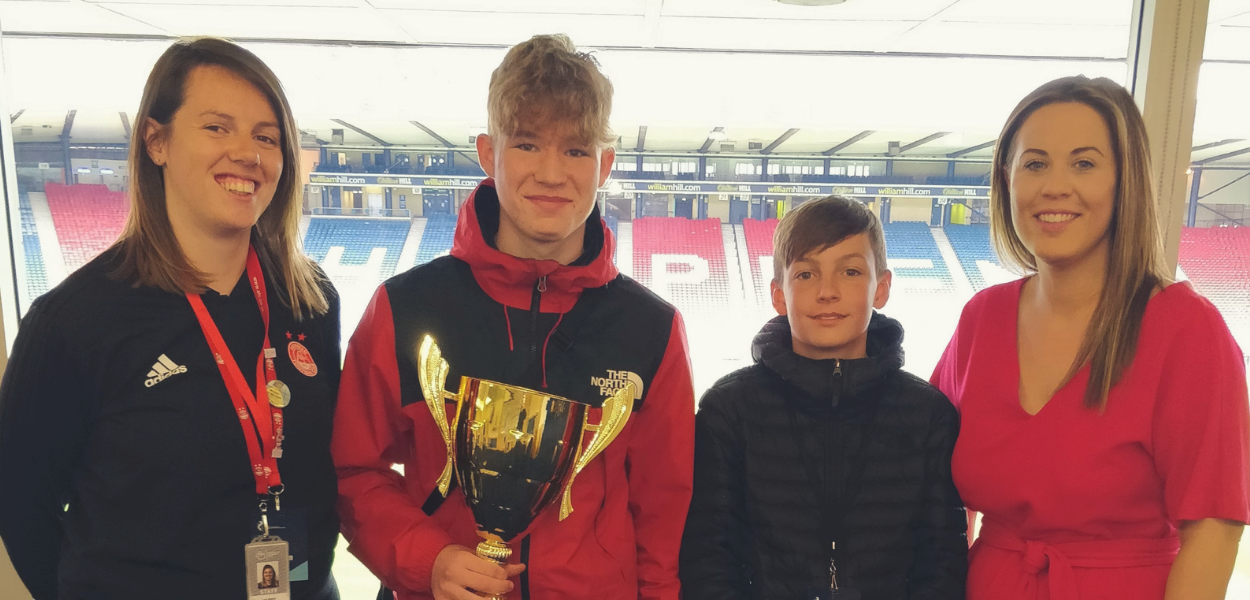 Project of the Year: Aberdeen FC Community Trust
Written By SPFL Trust Media Centre
Aberdeen FC Community Trust's project aimed at providing alternative ways to engage teenage boys in education and training is the winner of our Project of the Year 2019.
The Peterdeen Project has helped 116 young men who struggle in classroom settings explore different avenues to education, by giving access to training in a range of subjects such as sports coaching and hospitality. The project has been very successful, reducing school exclusions by 80%, and saving the local council £1 million by preventing four young people from going into residential care. The award was voted on by fellow clubs, at the SPFL Trust's All Club Conference yesterday.
Alongside the award-winning Peterdeen Project, other finalists included projects from Celtic FC Foundation, Partick Thistle Charitable Trust and Rangers Charity Foundation. The projects helped a range of people, including those with dementia and those who are homeless.
Nicky Reid, SPFL Trust CEO said, "It's fantastic to see so much brilliant work going on in our communities up and down the country. This year we've focused on highlighting how the projects align with the government set National Outcomes to really show the added value football can add to society. A huge congratulations to the Peterdeen Scholarship for winning the peer vote, and thank you to all our finalists for sharing their amazing projects with us."
The awards were the grand finale at the All Club Conference which focused on the National Outcomes set out by the Scottish Government. There were many speakers on the day, including the Cabinet Secretary for Health & Sport, Jeane Freeman OBE MSP, who commented:
"Football is our national game. Our attendances are the highest in Europe per capita, and football dominates our media, and discussions with friends and family. The passion of football supporters is a powerful force. The people who attend programmes like the ones shown today, are often the people who most need support. They are probably unlikely to respond to traditional interventions however they will listen and respond to their football club. That's football's unique selling point, and that's why we are so supportive of the work they do."
During the day there were also two workshops held by SAMH and Show Racism the Red Card. SAMH spoke about the work they do within football such as our Changing Room project which is held at Hibernian and Hearts. Show Racism the Red Card spoke about how they engage children at various ages in equality and diversity training, including through games such as "culture shock" which allows children to question stereotypes.