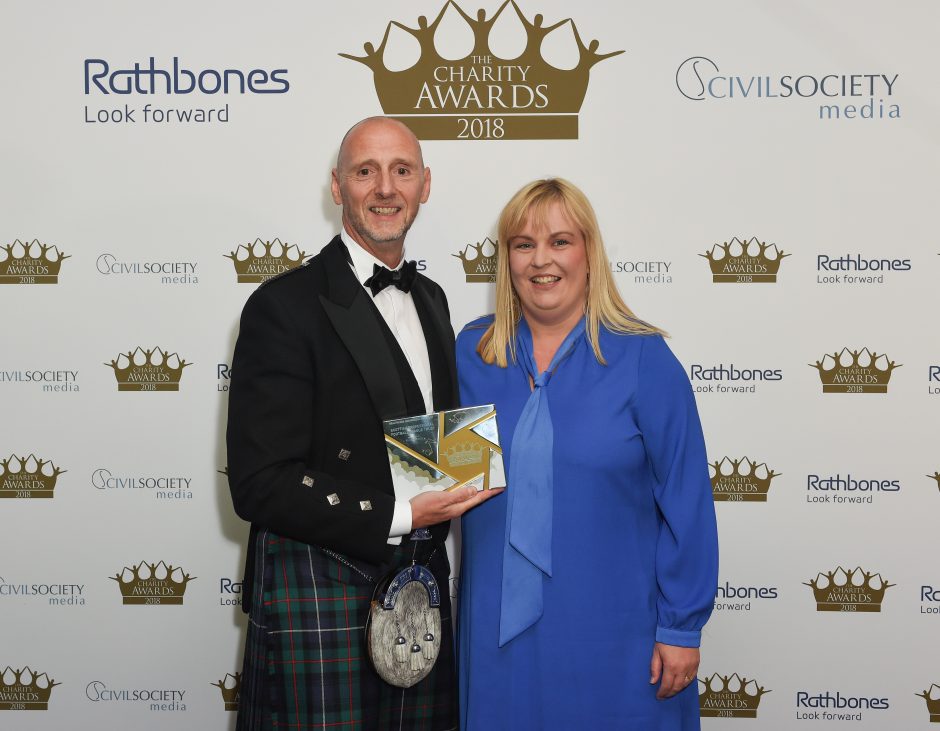 Major UK award for SPFL Trust
Written By SPFL Trust Media Centre
The SPFL Trust are today celebrating after securing a highly prestigious award at the Charity Awards in London, last night.
Scottish football's official charity took home the gong at the 19th annual event, which is organised by Civil Society Media, at a black-tie event at the Tower of London.
Football Fans in Training was the winning project in the "healthcare and medical research category."
One of the SPFL Trust's proudest achievements, FFIT uses the power of football clubs to inspire men (in the case of this award) and women who are 35+ and with a waist of at least 38 inches to get healthier – and stay that way!
Participants engage in a 13-week programme behind the scenes at their participating club. Each session is split into two parts with a group learning session on issues around health and nutrition before taking part in light, physical exercise.
FFIT was developed in partnership with University of Glasgow and it is fully evidenced by them through a peer reviewed, randomised trial, details of which have been published in medical journal The Lancet.
Such has been the success of the programme that the SPFL Trust now license FFIT to several clubs in the Premier League and EFL. SPFL clubs participate under a programme of funding provided by the Scottish Government.
Next season a pan-European pilot project will take place across several countries including Hungary, Belgium, and Germany.
Other pilot projects have also been taking place including a FFIT Challenge League involving four clubs; FFIT Families, which looks at how to help families be healthier; and a project looking at the impact of FFIT on diabetes is also in progress.
Last year alone, FFIT participating clubs welcomed 79 intakes of participants. Out of the 1,116 people who started, 813 completed the project.
Average weight loss was 5.14kg and waist reduction was 9.5cm. In total participants lost 3,876kg and reduced their waists by a collecting 7,725cm.
SPFL Trust chief executive Nicky Reid comments: "We are delighted to have secured this recognition for FFIT. The category itself – healthcare and medical research – is very important to us, because our programme is so well evidenced to deliver remarkable results.
"It's a fantastic example of why Scottish football can be trusted to support communities across the country, with the delivery of meaningful programmes which clearly work."
Clubs across England, Wales, Northern Ireland and into Europe are welcome to find out about FFIT and the SPFL Trust's licensing system. Email ffit@spfltrust.org.uk to make an enquiry.