Livingston Youth Foundation launch new Reminiscence Programme!
Written By Admin
 Livingston Reminiscence Programme
The programme has been designed to support adults who have Dementia. The LYF programme involves participants in a number of gentle sporting and football related activities, specifically suited to their individual abilities.  The programme will span eight months in total.
LYF are hoping to utilise the powerful tool of reminiscing as a way to communicate with the participants who take part. The initiative will take place on a monthly basis with each session lasting for a maximum of two hours.
Uniquely the programme involves students from local high schools throughout West Lothian.. The Sixth Year students will provide a 'buddy' system to the participants.
Students will create a personal memories book for their buddy book that will record the participant's time on the programme and will be presented as a keepsake. The students also benefit from learning about Dementia, gaining a sense of community and their relationship with it.
Inveralmond Community High School is the first school to involve themselves with the programme. The students have taken part in their training activities and are now ready for to start helping people affected by Alzheimer's. Below is a photograph of a selection of the students who are taking part in the programme: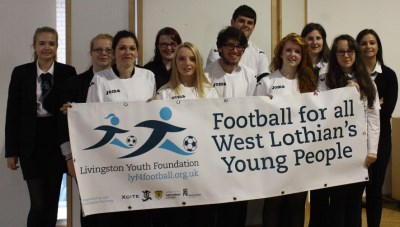 The Livingston youth will be working closely with Football Memories (Alzheimer Scotland), West Lothian Community Health and Care Partnership and Livingston Football Club and The SPFL Trust.