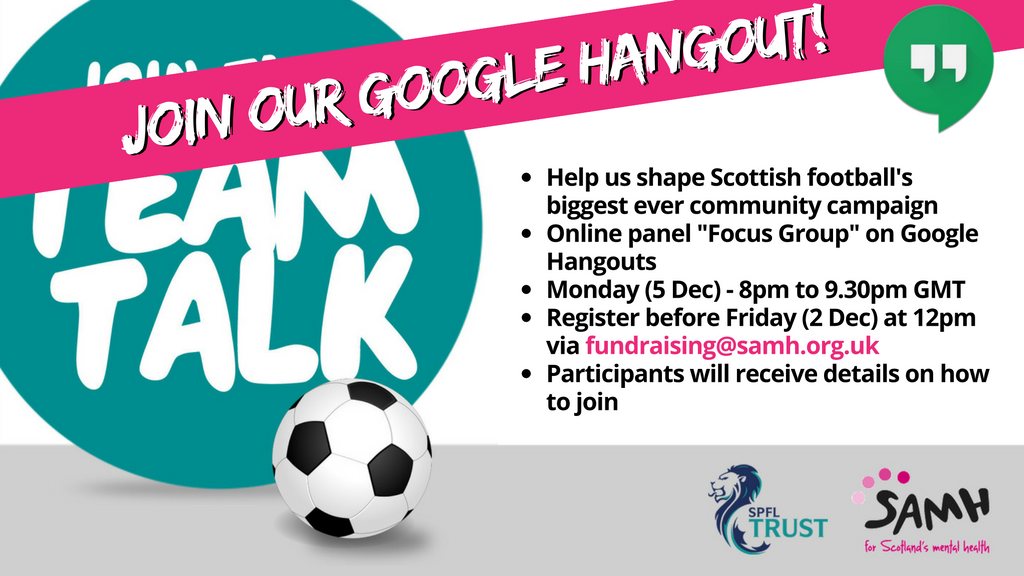 Join our #TeamTalk Google Hangout
Written By SPFL Trust Media Centre
Following the huge success of the short three-minute survey carried out by the SPFL Trust and the Scottish Association for Mental Health (SAMH), a series of focus groups have been taking place at selected clubs across the country.
Now, a final session will take place – but this time it will be online via a "Google Hangout", and Scottish football supporters are invited to register to participate.
The session will take place on Monday (5 December) starting at 8pm and is expected to last 90 minutes.
How do Google Hangouts work?
A bit like Facebook Messenger or WhatsApp, Google Hangouts allows a group of people to get together to discuss something online using video
They're a bit like a conference calling system – except rather than dialing a number you got to a special web address (which we'll provide)
Once your page loads you simply click to join the session
Make sure your microphone is working, and ideally switch your webcam on too – it means everyone can chat together as if in the same room
As well as being accessible on any internet browser (such as Google Chrome, Internet Explorer or Microsoft Edge) there is also a Google Hangouts app for iOS and Android devices which is free to use
By participating you'll be helping the SPFL Trust and SAMH in what is probably the most ambitious project ever seen in Scottish football.
Above all else, and based on our sessions so far, it should be lots of fun!
Register – or get more information – before 12pm on Friday (2 December) via fundraising@samh.org.uk.