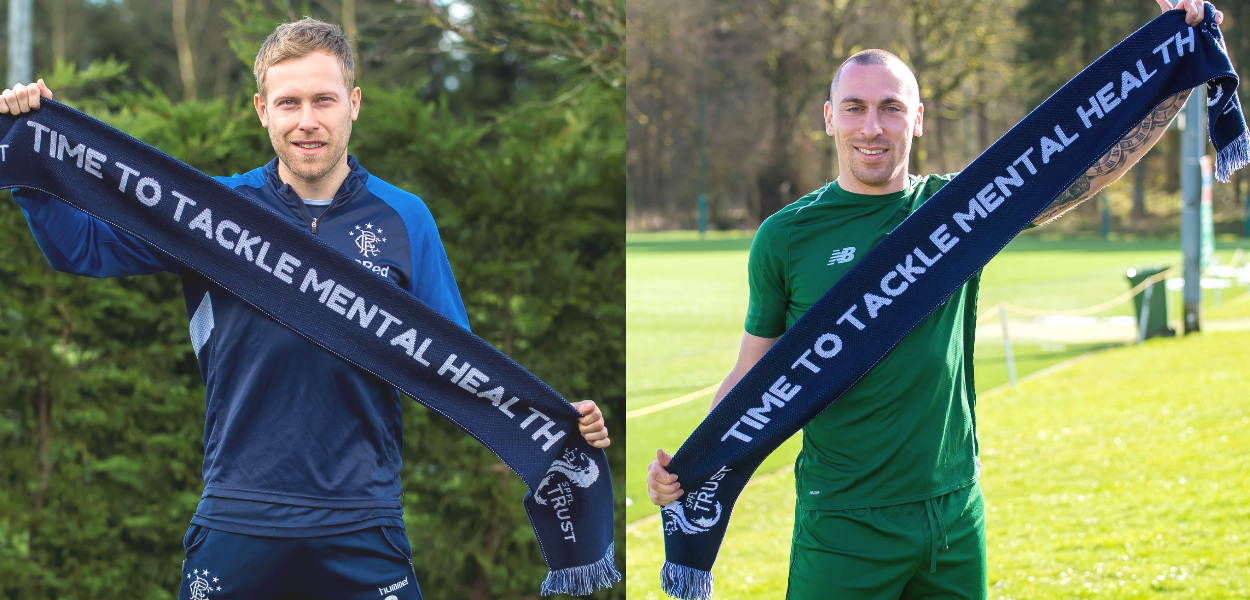 Great Scott! Glasgow derby players support mental health fundraiser
Written By SPFL Trust Media Centre
Today we are launching our 2019 Golf Day, which will take place for the second year running at The Carrick by Loch Lomond on Wednesday 29th May.
The event is now in its third year, and raises money to fund Mental Health First Aid training to football clubs across Scotland.
Scott Brown from Celtic FC and Scott Arfield from Rangers FC both showed their support for the Mental Health First Aid training by proudly waving their "Time to Tackle Mental Health" SPFL Trust scarves ahead of the derby on Sunday.
The training is delivered in partnership with the Chris Mitchell Foundation, which was set up after the 27-year-old former Queen of the South player died by suicide in 2016.
Suicide, especially among men, is an epidemic which the UK is facing. It is the single biggest killer of men under 45. This training aims to help people working within Scottish football clubs to spot the signs when someone is struggling with their mental health, build their confidence in approaching someone in distress and help to reduce stigma.
Rangers FC midfielder Scott Arfield, who grew close to Chris during their time as Falkirk bairns, says, "I'm supporting the Golf Day because Chris was my best mate, and this cause means a lot to me. It's amazing what his family has done to help tackle the problem. If everyone comes together, we can make a difference"
Celtic captain, Scott Brown says, "Not only am I a huge golf fan, mental health is a huge topic in football right now. For the footballers coming to the end of their careers, once they're out of the dressing room, they're finding it hard to focus on something else because it's been in their life for so long."
SPFL Trust chief executive Nicky Reid commented, "It's fantastic that we got two huge players from Rangers and Celtic to help launch the SPFL Trust Golf Day. It shows that mental health in football shows no boundaries, and we all need to work together in order to break down the stigma and make talking about mental health ok in footballing environments."
In the run up to the most notorious fixture in Scottish football, the two players comment on how they handle the stress of the day.
Scott Arfield says, "I try not to think about how big a game the Old Firm derby is, we are in a very privileged position to be picked to play the game and we know how much it means to the fans."
Scott Brown added, "Everyone deal with the stress of an Old Firm match differently, for me I just try and let the stress bypass me and not worry about it too much."
The SPFL Trust Golf Day 2019 package includes:
PGA club host
A host of footballers – past & present
Breakfast on arrival
Personalised lockers
Fourball on The Carrick's championship course
Gift bag
Afternoon BBQ
Plenty of fantastic prizes
20% discount at the bar
Packages are priced at £199 per person.
Bookings can be made with the SPFL Trust's Golf Day 2019 team via 0141 620 4162 or email golfday@spfltrust.org.uk.
To find out more about the Golf Day visit our microsite.
If you are struggling with your mental health, please speak to the Samaritans. You can reach them for free by calling 116 123.