From FFIT to Final
Written By SPFL Trust Media Centre
FFIT Participants to take the main stage at Hampden.
The League Cup Final is growing closer with only 12 days to go!
Celtic FC are set to play Dundee United to determine the winner of the Scottish League Cup on the 15th of March 2015.
For 10 lucky Football Fans in Training (FFIT) participants it will be a dream day – each club has been asked to select 5 FFIT participants to represent their clubs for the 'Half-time Challenge.'  Members from each team will be given 10 seconds to get from the half way line to the opposing goal in anattempt to score their dream goal in front of a highly anticipated audience from both ends of the country.
Both League Cup Semi-Final games featured the same half-time challenge with an overwhelming response from the crowd.  Both teams received a standing ovation from their fellow fans (every football fans dream regardless of their age) all in the spirit of the game and for a bit of fun.
The final is also set to feature 3 child mascots from both sides.   Each child mascot will lead their teams out of the tunnel just before kick-off accompanied by both club captains (Seán Dillon and Scott Brown)! This will be a memorable experience to walk out of the tunnel and feel what it's like to be in the heart of an atmosphere that is unquestionably able to give you a shiver or ten down your spine. This will certainly be an experience that these children will remember for the rest of their lives regardless of the final score.
We would like to wish the participants and child mascots all the best for the League Cup Final and hope that they enjoy this amazing once in a life time experience.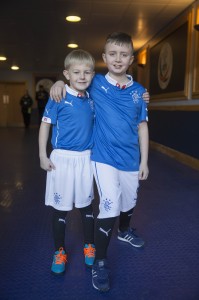 To find out more about our flagship programme, Football Fans in Training, please click here: https://spfltrust.org.uk/projects/football-fans-in-training/