Big Hearts use the power of the club's crest to support families.
Written By Admin
The Big Hearts Community Trust is aiming to help and support people placed under kinship care by acting as a key partner in tackling the issues many kinship care families face.
Big Hearts set to focus on kinship care families.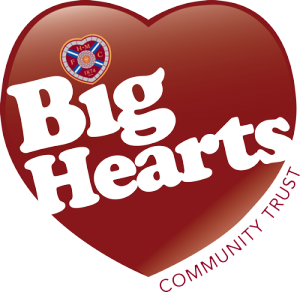 If a child cannot remain with their birth parents for any reason then they can be placed with a local authority or in the care of family or friends for a period of time. This is what is commonly known as kinship care.
Children in kinship care typically experience a lot of disadvantages within life and are also likely to have experienced some form of abuse or neglect already in their life. Despite unique challenges, research demonstrates that kinship care generates a positive outcome.
Kinship carers want more training to help cope with these children's challenging behaviours.
Kinship carers make huge personal sacrifices around employment, social interactions, family and personal relationships in order to look after these children fully.  The majority of these carers receive little or no support when trying to manage complex family issues and making sure that the child's development is a positive one.
Big Hearts set their sights to working as key partners with kinship care families to help deliver against the key points raised above and ultimately make a difference to these children carers.
Here is what some children say about Kinship Care:
Boy aged 10:
I like staying at my aunty's house, it's fun. Aunty makes me wake up
and sends me to school. She likes me to eat all my meals and take
my medicine. I have to brush my teeth. I like to go on holiday with my
aunty and go on an aeroplane and jump on trampolines on my holiday.
I miss my mum and dad. When mummy went away back to England
I was very upset. I am better now; I missed them at first…