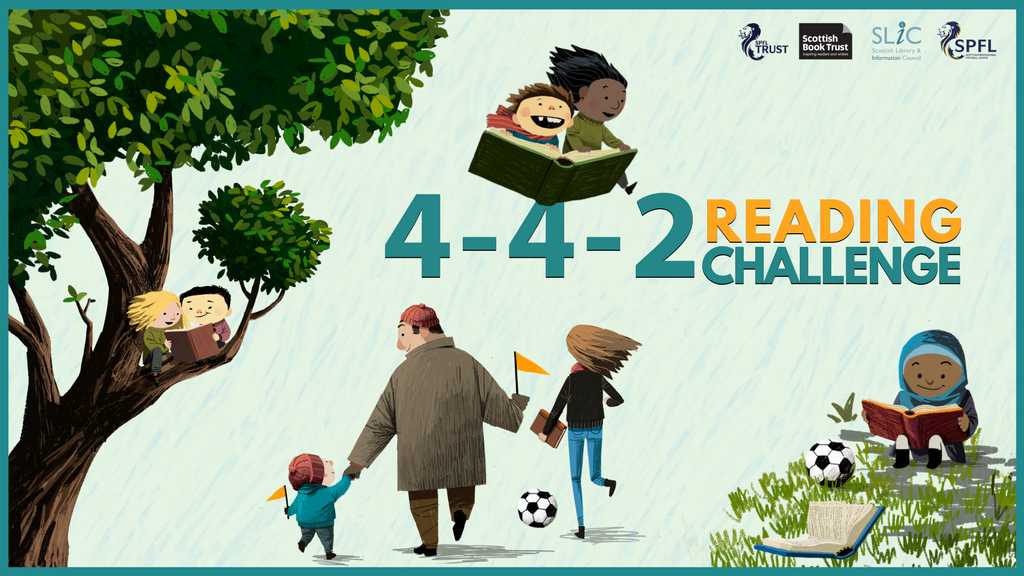 Scotland's football clubs to get children reading – with the help of free match tickets!
Written By SPFL Trust Media Centre
Key headlines:
• Free match tickets for kids who read
• Scottish Book Trust, SPFL Trust, & Scottish Libraries partnership launches in Dundee
• Over half of Scotland's libraries will be involved in a 14-club pilot project
• Programme is funded by the SPFL
The SPFL Trust and Scottish Book Trust will today (6 February 2018) reveal a pioneering pilot project, which aims to encourage kids to read.
Working in partnership with 14 SPFL clubs and local libraries, the 4-4-2 Reading Challenge will aim to inspire children aged 5-12 to read four books in exchange for match tickets.
The initiative centres on a reading "challenge card" which participating clubs and libraries will issue. For every book read, children will receive a stamp on their card.
When they have read four books, participants will receive a FREE match ticket, while an accompanying adult will be able to purchase a discounted ticket.
Although this is a test project, over 200 libraries, marking more than half the estate in Scotland, will be involved, across 11 of Scotland's thirty-two local authorities. The project could be extended to cover the whole country if the initiative is a winner.
Funding for the 4-4-2 Reading Challenge has been generously provided by the SPFL. In turn, the SPFL Trust and Scottish Book Trust have launched a partnership to deliver an initial three-month campaign.
The project was launched at Coldside Library in Dundee today (Tuesday), as a class of Primary 3 children from Dens Park Primary School enjoy a magical session with Danny Scott, author of the Scotland Stars FC series and Sarah Forbes, creator of the Elspeth Hart adventure books.
They were joined by Dundee FC striker Roarie Deacon and Dundee United star Willo Flood for the special event.
The 4-4-2 Reading Challenge is underpinned by a beautifully crafted visual campaign, featuring the drawings of Edinburgh-based Danish illustrator Anders Frang.
SPFL Trust chief executive Nicky Reid comments: "The 4-4-2 Reading Challenge initiative is designed to encourage children who don't regularly visit the library or participate in sport to do so. As such, we think it's a real win-win opportunity for all concerned. Although this is a pilot project, we have high hopes that it can be a hugely successful programme, and so we are grateful to the SPFL for their support to allow us to kick-off."
Marc Lambert, CEO of Scottish Book Trust, a charity changing lives through reading and writing, said: "Taking part in sport and reading are both important for young people's physical and mental health. As well as being fun, reading for pleasure can increase empathy, reduce stress and improve wellbeing, while all the research shows that children who read for pleasure also tend to do better at school. We're delighted to work with the SPFL to use sport to encourage a love of reading in Scotland's children."
Dundee FC captain Darren O'Dea comments: "I really enjoy reading with my little girl and hopefully with this initiative we'll be able to encourage those who don't read so much to try to do so."
Dundee United skipper Willo Flood adds: "In today's world with so many gadgets, platforms and websites like YouTube, Instagram and Snapchat, it can quickly be forgotten how vital and enjoyable reading is. Everyone with children loves sitting reading with their kid and I am no different. Reading stimulates the mind in a truly unique way. I am here today in the hope that we can ensure future generations will appreciate the value of reading for everyone – and if Dundee United can get a few new fans out of the kids who are here today – even better!"
SPFL Chief Executive Neil Doncaster comments: "The 4-4-2 Reading Challenge is another excellent initiative from the SPFL Trust and Scottish Book Trust that the SPFL is delighted to support. Learning to read is a cornerstone of every child's upbringing and hopefully the reward of getting to a football match will encourage many of them to take up the challenge."
Clubs participating in the 4-4-2 Reading Challenge are:
Annan Athletic FC
Arbroath FC
Dundee FC
Dundee United FC
Forfar Athletic FC
Inverness Caledonian Thistle FC
Kilmarnock FC
Livingston FC
Motherwell FC
Peterhead FC
Raith Rovers FC
Ross County FC
St Johnstone FC
Stirling Albion FC
WHY IS READING SO IMPORTANT?
Reading and writing transform lives.
Reading and writing are the most important factors in reducing the attainment gap, improve mental health issues such as anxiety, depression and dementia, and influence people's work, relationships and the economy.
Inequality and Literacy
Children from deprived backgrounds often do not go on to higher education and are likely to earn less over the course of their lives
By the age of three, children from the most prosperous households have heard 30 million more words spoken throughout their lifetime than children from impoverished households (Source: The Thirty Million Word Gap by Betty Hart And Todd R. Risley)
When they are five, the vocabulary of children from low-income households is typically more than a year behind those from high-income backgrounds (Source: Joseph Rowntree Foundation: Closing the Attainment Gap In Scottish Education Report)
More than 1 in 4 of Scotland's children are living in poverty and the problem is getting worse (Child Poverty Action Group)
Helping children to develop a lifelong love of reading can reverse this situation, helping to break the cycle of poverty and improve their life chances
Children who are read to every day by their parents and carers have been shown to be almost 12 months ahead of their age group by the time they start school. Even reading to children two or three times a week can make a significant contribution to their development.
Mental Health Benefits
Scotland is facing a mental health and wellbeing crisis. One in three people suffer from mental illness each year, and the number of people with dementia is set to double in the next 25 years.
Reading and writing for pleasure has incredible benefits for mental health:
Just six minutes of reading can reduce stress by 68%
Reading is linked to preventing and slowing the onset of dementia
Reading and creative writing improve empathy, communication and self-esteem and reduce anxiety and depression
Reading fiction can model ways of coping with alienation or problems at school, work or in relationships
Reading creates a greater empathy with other sectors of society and with other cultures, which can help tackle social problems such as xenophobia, sectarianism and racism and create a more tolerant, civic-minded society