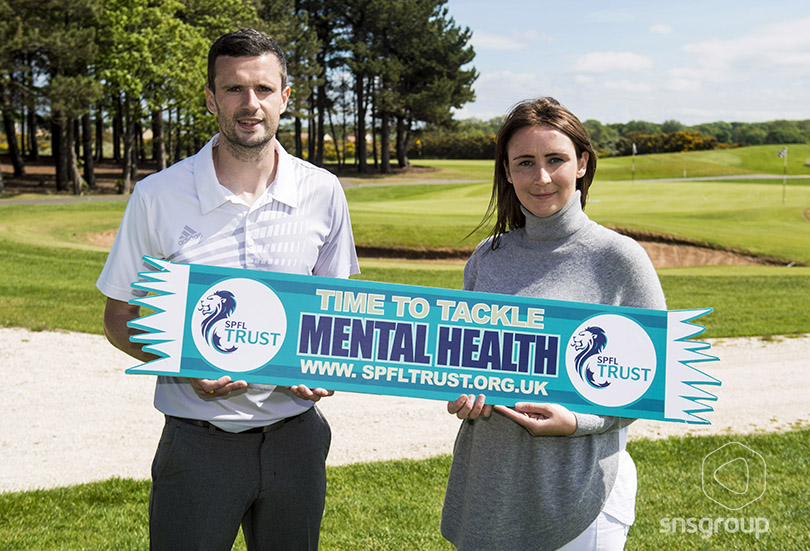 SPFL Trust to deliver more mental health first aid courses
Written By SPFL Trust Media Centre
The SPFL Trust today (24 May 2017) reaffirmed its commitment to supporting the mental health of people in communities served by clubs across the country.
This came as the SPFL's official charity partner held its first corporate fundraising event, a celebrity golf day at Archerfield on the East Lothian coast at which Scotland forward Jamie Murphy was the star guest amongst a host of current and former pros including Scott Arfield and Tam McManus.
As part of a partnership with the Chris Mitchell Foundation, all proceeds from the event will go towards providing Mental Health First Aid Courses for clubs, after previous rounds of training were oversubscribed.
The Chris Mitchell Foundation was established by his family, after Chris tragically took his own life last year.
SPFL Trust General Manager Nicky Reid comments: "Today we're reaffirming the SPFL Trust's commitment to supporting club's support themselves and their communities with the provision of Mental Health First Aid training.
"The funds raised from our prestigious golf event here at Archerfield will all go towards equipping club staff to be able to recognise and react when coming into contact with those who are struggling, by giving them the confidence and knowledge to respond accordingly.
"Our partnership with the Chris Mitchell Foundation allows us to honour his memory by delivering tangible resources to clubs across the country."
Chris' sister Laura Mitchell adds: "We launched the Chris Mitchell Foundation this month, a year after my brother took his own life.
"Chris had a great career in professional football however mental health issues, particularly depression and anxiety, were something he was unable to overcome on his own.
"The funds raised from the golf event today will be vital in assisting other clubs to provide the necessary advice and support to their members, and dispel the stigma associated with mental health issues in Scottish professional football.
"We welcome this partnership with SPFL Trust and look forward to working together to raise awareness on a national scale."
Scotland and Brighton & Hove Albion star Jamie Murphy comments:  "The SPFL Trust's programme of Mental Health First Aid training is an invaluable resource for clubs, and I am pleased that they have been able to work with the Chris Mitchell Foundation to deliver an event which will raise vital funds for this purpose to allow clubs to help those who really need it."
The SPFL Trust's first Golf Day was delivered by Cell Events, who waived their fee to allow all proceeds to go towards funding for training.
Pictured: Brighton & Scotland star Jamie Murphy with Chris's sister Laura Mitchell