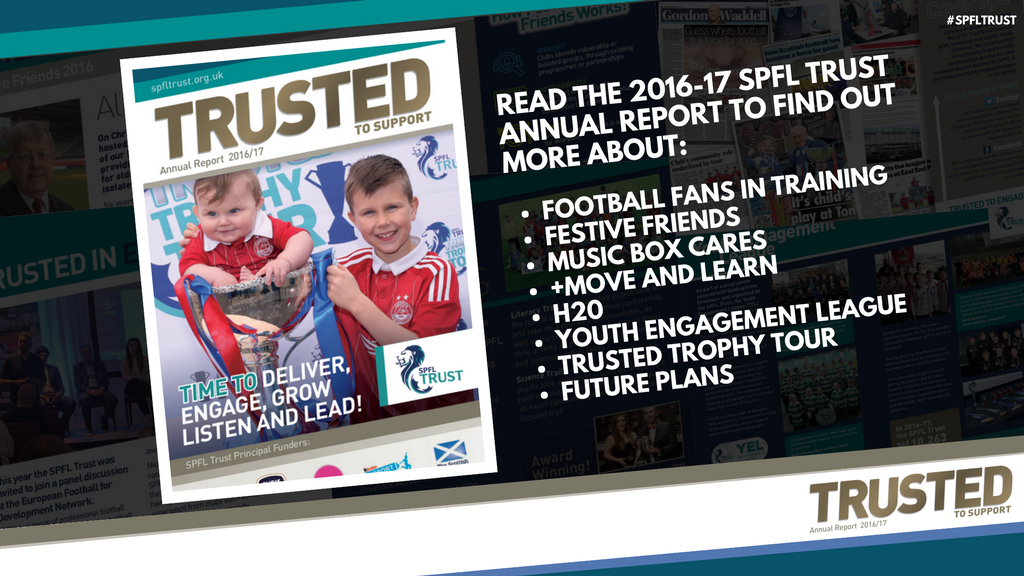 SPFL Trust reveals 2016-17 Annual Report
Written By SPFL Trust Media Centre
The SPFL Trust today reveals the first annual report in the organisation's history, highlighting an exceptional mix of activity going on across SPFL clubs.
During the period to 31 May 2017, the SPFL Trust set in place a new strategy aimed at using football's unique present to assistant people in Scotland to achieve their goals and improve life chances.
This manifested itself in the broadest range of activity and engagement since the SPFL Trust was formed, including:
Ongoing growth of Football Fans in Training (FFFIT) including 79 different projects across participating clubs engaging men and women
Launch of Festive Friends programme to support socially isolated elderly people at Christmas
A first mental health training programmes (which have significantly expanded since the end of the financial year)
3,000 primary school aged children engaged via our partnership with Scottish Water, H20
Working with Ferrero UK on the +Sport Move and Learn Project with selected clubs and primary schools
A new project with the Scottish FA to offer a "walking football" kit bundle
The successful Erazmus funded project, Youth Engagement League focusing on young people using football and citizenship
Music Box Cares – using the power of live music to support young people who are "looked after"
Revealing results of the Legacy 2014 funding programme which 40 SPFL clubs engaged with
How the SPFL Trust and SPFL clubs are leading and influencing debate across Europe
The first ever nationwide club trophy tour – and our first volunteering programme
A massive increase in traditional and digital media coverage and engagement
A record 23 clubs now with their "own" charities established during the reported period
Commenting on the launch of the annual report, chief executive Nicky Reid said, "I think this is a genuinely inspirational look back at what was a game changing 12-month period for the SPFL Trust.
"The charity's growth and mindset has changed significantly over the last couple of years, and this is reflected in what is a hugely positive report on our activity.
"I think it is important to stress that this annual report covers the period to the end of financial year 31st May 2017, and so nearly another full year of work has taken place since.
"It's fair to say that our next annual report will burst with even more positivity, inspiring stories, and a sense that the SPFL Trust and clubs can ensure that the SPFL is the most community engaged league in the world."