Music Box Clubs Hit the High Notes!
Written By Admin
Hitting All The Right Notes!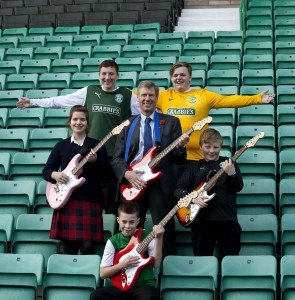 Congratulations to everyone who has taken part in  this year's Music Box programme!
The programme has been a great success with hundreds of young people enjoying music making sessions at 14 SPFL Clubs across the country. The project even received the only donation of guitars even made by 'Fender' outside of the USA!
Based in Stadiums, Music Box is a youth project aimed at engaging young people aged 10-16 in a programme of sustained music making activity. The project offered a range of entry-level activities on a number of popular musical instruments, delivered by highly experienced music practitioners. Participants had the chance to experience tuition on a number of instruments, as well opportunities to write songs, learn about music technology and participate in performances.
 While the focus of the project is to develop participants' skills in music making, the project will also assist young people to develop wider life skills such as team-work, communication and hand-eye co-ordination, while also promoting participation in positive activities.
Well done to all involved and a big thank you to our partners across Scotland who have delivered thoroughly enjoyable music tuition to the young people involved!