Heart Warming Fundrasing!
Written By Admin
The Big Hearts Foundation announces unique fundraising initiative in partnership with fans group Sinky for Hearts.  
The official charity of Hearts FC has teamed up with the group who will be donating £20 for every goal scored by Hearts FC with all the proceeds going to Big Hearts so far, the total donated stands at £940 with 47 goals already being scored.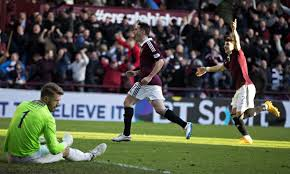 Hearts Chairman Jim Panton said
"It is wonderful to see another group of Hearts' fans supporting us at such an important time for the charity. As I said last month, Big Hearts will become a charity for families and we want to lead the way in a very new approach to social responsibility in football. The support of the 'Sinky for Hearts' group, in providing us with such a donation is invaluable and very much appreciated. You can take it for granted that we will be cheering every goal Robbie and his team score even louder now!"