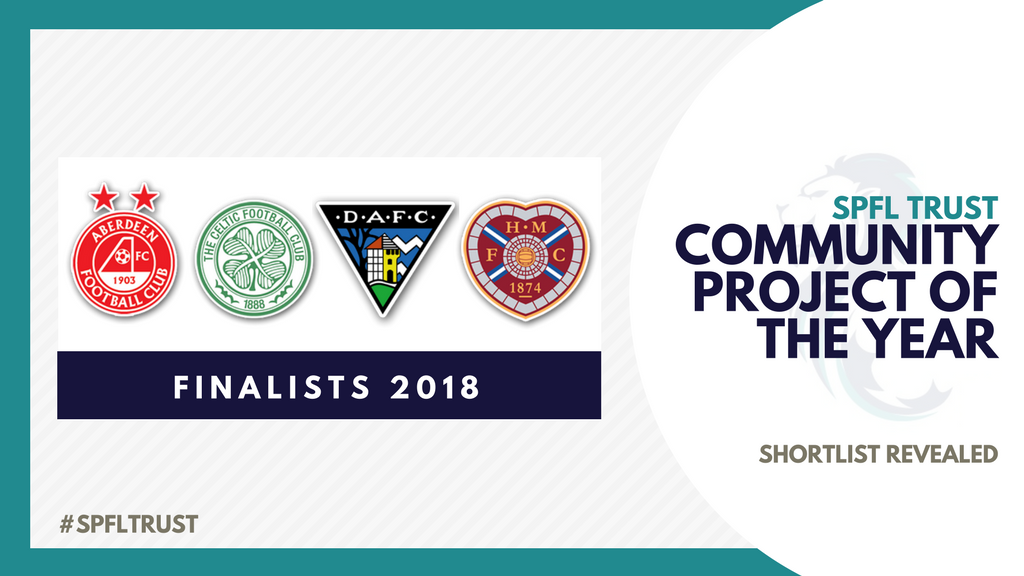 SPFL Trust reveals "Community Project of the Year" shortlist
Written By SPFL Trust Media Centre
The SPFL Trust today reveals a shortlist of four clubs who will compete for "Community Project of the Year" 2018.
Aberdeen, Celtic, Dunfermline and Heart of Midlothian are named on a four-strong list with a final vote of SPFL clubs to take place at the SPFL Trust's annual All Club Conference on 18 April.
Dementia Friendly Wellbeing is the Aberdeen FC Community Trust's programme of activity which supports people living with dementia and their carers to access physical activity sessions across the city.
Importantly, AFCCT's approach means integrating people with dementia into services and the community, and specifically not providing sessions for those with dementia only.
Sessions include Health Walks, TechnoGym (air hydraulic resistance machines), Stable and Able, Table Tennis, Football Memories, Active Reminiscence, and Dementia Friendly discos called Boogie In The Bar.
Celtic's shortlisted project is called Gateway to Employment.
Delivered by Celtic FC Foundation and funded by Scottish Government's CashBack for Communities initiative, Gateway to Employment is a bespoke employability project.
Engaging young adults aged 16-24, the project targets individuals who have offended, are at risk of (re)offending, or live in an area with a high risk of crime.
Since the programme's inception 163 participants have been engaged, 139 of whom have progressed into a "positive destination" including employment, training, or education.
Dunfermline Athletic's programme, delivered by The Pars Foundation is called Pars Tackle Health.
It promotes positive attitudes towards good health and fitness, using professional footballers – who visit schools across the area every Monday – as role models. It consolidates the Learning Outcomes covered in Curriculum for Excellence's Health & Wellbeing.
Over this school year (2017- 2018), the Pars will have visited 28 local primary schools and spoken directly to 1,133 Primary 6/7 pupils. This represents 71% of all primary schools in the Dunfermline area.
Heart of Midlothian's project is Big Hearts Supporters and is led by Big Hearts Community Trust, the club's official partner charity.
Big Hearts Supporters gives Hearts supporters opportunities to give their time to help local families and individuals in need. A unique engagement project, so far over 1,700 fans have registered their support. So far 200 of them have volunteered in the community completing over 3,500 hours over the last 12 months to support a variety of initiatives across Edinburgh supporting socially isolated families.
Independent research conducted reported that 92% of volunteers would recommend volunteering through Big Hearts to others whilst the programme has been externally recognised, becoming the first football club charity in Scotland to achieve "Investing in Volunteers" accreditation, and being shortlisted in the "Cracking Campaign" category at the Scottish Charity Awards 2017.
Commenting on the shortlist, SPFL Trust chief executive Nicky Reid congratulated the four shortlisted clubs. She said: "We received 13 submissions to this year's awards, and it is fair to say that the standard was excellent from across the clubs, and in the case of this year's shortlist each club's own charity.
"We are delighted to reveal this shortlist of four very different projects which support a variety of key areas of need in Scotland: dementia, health & wellbeing, social inclusion, and volunteers supporting socially isolated families.
"Once again, we see why our clubs are trusted to support people who are in need across the country, delivering meaningful engagement.
"Importantly, and I want to stress this, our clubs are becoming very good at providing a clear evaluative insight into their programmes. This is a vital part of creating sustainability in projects, through opportunities to secure funding."
On 18 April the annual SPFL Trust All Club Conference will take place at the new-look Tynecastle Park.
Delegates from across the 42 SPFL clubs will each be shown a specially created film from each of the four shortlisted projects. They'll also have an opportunity to ask questions to representatives from each club.
Thereafter it is the clubs who will decide the "Community Project of the Year" via a straightforward secret ballot. The winner will be revealed before the end of the conference, with an announcement made across SPFL Trust social media channels.