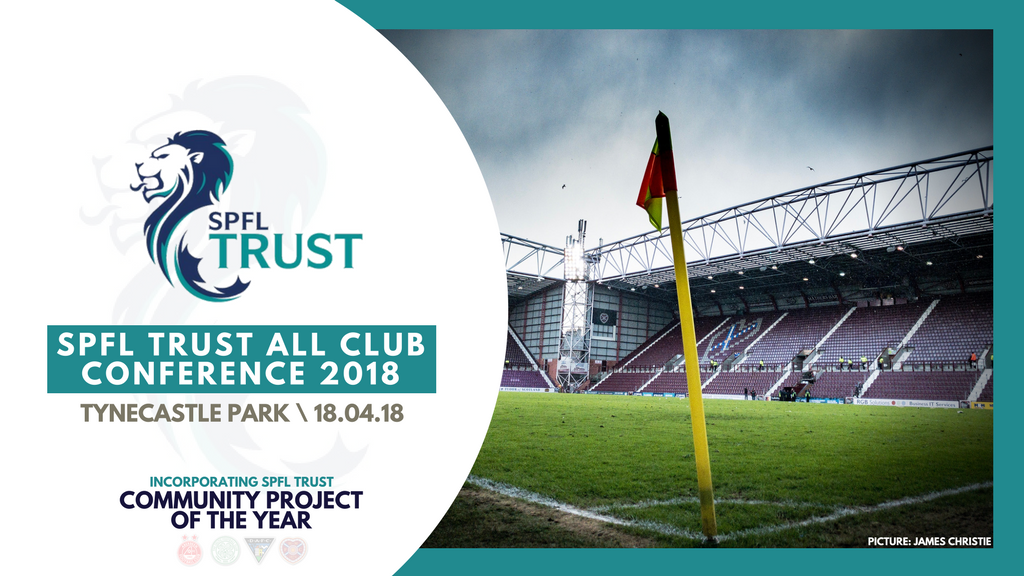 SPFL Trust Host 5th Annual All Club Conference
Written By spfltrust
Representatives from 21 SPFL Clubs clubs came together at the SPFL Trust's annual conference to reflect on another great season and build new contacts.
Various speakers including Minister for Sport & Public Health, Aileen Campbell, Executive Director at Everton in the Community, Phil Duffy and the Trust's very own Chief Executive, Nicky Reid all gave inspiring speeches praising the hard work of our football communities.
MSP Campbell described the work by the SPFL Trust and member foundations as "inspirational."
She said: "The SPFL Trust provides a focus for much of this work, meeting identified social needs and delivering positive outcomes for the people of Scotland.
"It does that by using football's unique reach and impact as our national game to help people improve their health, their wellbeing and their life chances.
"I'd like to pay tribute to all of the team there – and recognise Nicky Reid's recent appointment as the first female chief executive at Hampden.
"The range of activity co-ordinated by the Trust is impressive."
Ms Campbell highlighted how Scottish Government and football don't always agree, but the work it's doing with communities needs to be credited.
"Football and government do not always have the easiest relationship," she added.
"Engagement can sometimes be focused on the problems in our game.
"I know, however, that what hits the headlines does not always reflect the reality.
"It certainly doesn't reflect the excellent work the SPFL Trust and you – the member Foundations and Trusts – are undertaking in your communities. And it doesn't reflect the work other organisations – like the Scottish FA and Scottish Football Partnership Trust – are undertaking."
There were several opportunities throughout the day for delegates from clubs to get together and share thoughts on how they feel the last 12 months have gone.
Phil Duffy said he was "delighted" to have been involved and explained how important it is for clubs to share thoughts.
He said: "The work that I've heard about Scottish clubs is just amazing.
"We're all doing the same thing just at different stages of development.
"I think that exchange of ideas and thinking is really very important for us all."
Nicky Reid also agreed with this and said the day was a "great opportunity" for clubs to get together.
She said: "I think people externally think that in football we don't like each other very much, where actually we're a communicative bunch and we all want to learn and support each other.
"It's important to take some time to appreciate all the work clubs have been doing over the past year, because often clubs don't really get a chance to do that."
In the afternoon, Electrify director Lawrence Broadie provided some useful tips on how to market all the good work Scottish football does in the community.
Bruce Tait from Bruce Tait Associates also gave some insight on fundraising based on over 25 years of experience in the voluntary sector.
However, the highlight of the day was the Project of the Year award which saw Celtic, Aberdeen, Hearts and Dunfermline battle it out for the top prize, with the Pars being crowned champions.
Their initiative 'Pars Tackle Health' uses Dunfermline footballers to promote positive health and well-being in schools across Fife.
Project co-ordinator, Gennaro Guidice, was thrilled with the award.
"I am absolutely delighted, not so much for myself but for all the players, the manager and the directors at East End Park, as well as the coaches at the Pars Foundation because without them this wouldn't be possible."