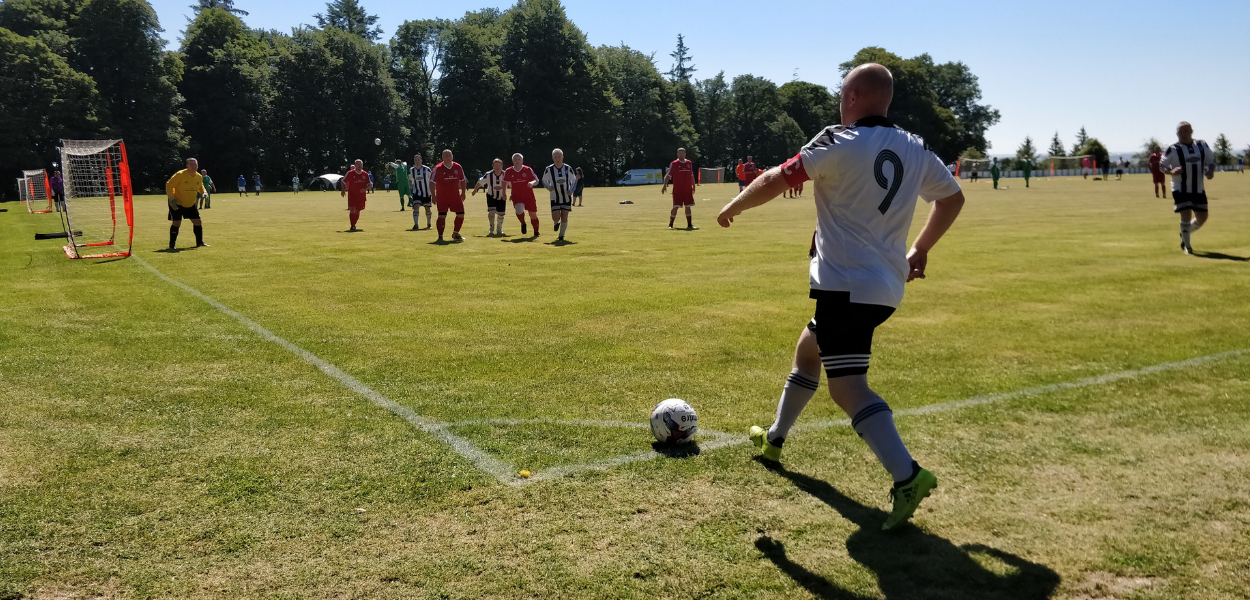 NHS England CEO hails Football Fans in Training
Written By SPFL Trust Media Centre
NHS England chief executive Simon Stevens has today backed the SPFL Trust's Football Fans in Training.
The programme lets overweight football fans train at their club's stadium, encouraging them to get fit and live a healthier, more active life.
Clubs in the English Football League are now participating in FFIT where participants are coached for 12 weeks at their team's home ground.
At Swindon Town FC, 30 men lost more than 40 stone in weight.
FFIT was developed by the SPFL Trust in partnership with the University of Glasgow.
The SPFL Trust continue to work on a roll-out to clubs outside Scotland, with programmes taking place in several European clubs
Simon Stevens said that rolling out the scheme in England will help cut type 2 diabetes and other obesity-related problems including heart disease and several types of cancer, relieving pressure on the NHS.
And as the NHS prepares to publish a long-term plan that will have a renewed focus on prevention, he said GPs should consider referring supporters to the scheme as part of the growing move toward 'social prescribing'.
The chief executive of NHS England said: "Obesity is a public health emergency and tackling it needs to be a team effort.
"Football clubs are the centre of communities across England and using them to encourage fans to get fit is a great idea that can produce real results.
"As the NHS prepares to publish a long-term plan that will include a renewed focus on prevention, GPs should consider whether schemes like this can help patients live fitter, healthier lives – and take pressure off on NHS services."
In England the FFIT is currently available at Swindon Town, Wycombe Wanderers, Blackpool, Middlesbrough and Charlton.
SPFL Trust chief executive Nicky Reid warmly welcomed the remarks from Mr Stevens, and revealed that conversations around further roll outs continue.
"We are delighted to see how successful Football Fans in Training has been at several EFL clubs," she said.
"We are continuing to explore ways we can expand this role out, and give more supporters an opportunity to become healthier and happier.
"FFIT has demonstrated its life-changing effects, but it wouldn't have been possible without the vital support from the Scottish Government and the NHS in Scotland."
Mike Evans, Director of Operations at the EFL Trust said: "The EFL Trust is committed to improving the lives of people within EFL communities across country and Football Fans in Training is proven to be a great way to get people to think about sustainable changes to improve their lives.
"We are proud of the work in our EFL clubs in this area so far and hope to do more to address this important challenge going forward."
FFIT is the only evidence-based program of its kind.
Experts at the University of Glasgow, who studied the programme's Scottish roll-out, said the men lost more than nine times as much weight as those who had not done the programme.
Men who followed FFIT in Scotland saw improvements to their health and wellbeing, with two in five maintaining a weight loss of at least 5% of their original body weight a year later.
Football Fans in Training will roll out at a number of SPFL clubs in January – find out more about FFIT, here!