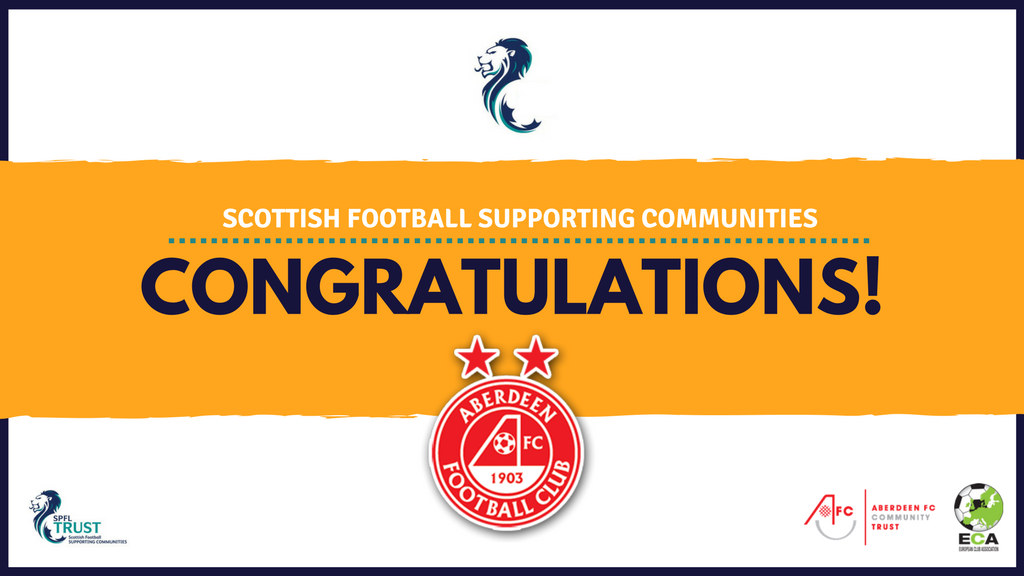 Aberdeen FC awarded "best CSR project" in Europe
Written By SPFL Trust Media Centre
Aberdeen FC are once again Kings of Europe this morning after the Dons picked up an award for the best corporate social responsibility (CSR) programme in Europe at the European Club Association Awards, last night in Geneva.
The Dons secured the coveted title following review by an independent panel for Aberdeen Football Club Community Trust's successful Dementia Friendly Wellbeing programme.
Dementia Friendly Wellbeing aims to support those affected by dementia by encouraging and promoting the integration of those diagnosed in local community activities.
Now in its third year of existence, the project has significantly increased the quality and quantity of dementia friendly activity sessions on offer in the North East of Scotland.
Sessions such as Walking Football, organised by the project, are not dementia only but rather dementia friendly.
Prior to the project, Aberdeen FC engaged with 21 people living with dementia or carers.
Currently, AFC Community Trust directly engages with and supports more than 200 people living with dementia or their carers on a weekly basis.
Not only has the club held events for those affected but it has also assisted in positively developing public awareness and understanding of the challenges being faced by dementia sufferers.
This unique project has given people with dementia the opportunity to interact with others, build new relationships, have a voice, and most importantly feel accepted.
For more information visit AFC Community Trust's website.
The independent panel which judged this pan European award was:
Peter Gilliéron, UEFA Executive Committee Member and Chairman of the Committee for Fair Play & Social Responsibility at UEFA;
Hubert Rovers, Chief Executive Officer at EFDN;
Peter Fossen, Chief Operating Officer at PSV Eindhoven (ECA CSR Award Winner 2016).
Hubert Rovers presented Aberdeen FC with the award and congratulated them for their outstanding CSR Programme.
"Across Europe, most football clubs primarily focus their community programmes on youth initiatives," he said.
"However, the Dementia Friendly Wellbeing project from Aberdeen FC focuses on an often neglected demographic in those affected by dementia, such as the elderly.
"The club has identified the need to support dementia sufferers both mentally and physically. They are a frontrunner in the development of this innovative approach and can serve as best practice to inspire other clubs to carry out similar projects."
Congratulations to everyone at Pittodrie from the SPFL Trust on securing this pan-European prestigious award.